By
Eleni Vlachos, Shoshana Benjamin, James David
May 26, 2022
Two SIG staff reflect on what Pride means to them, both in their lives and work, in the first of three in a series to commemorate June's Pride month.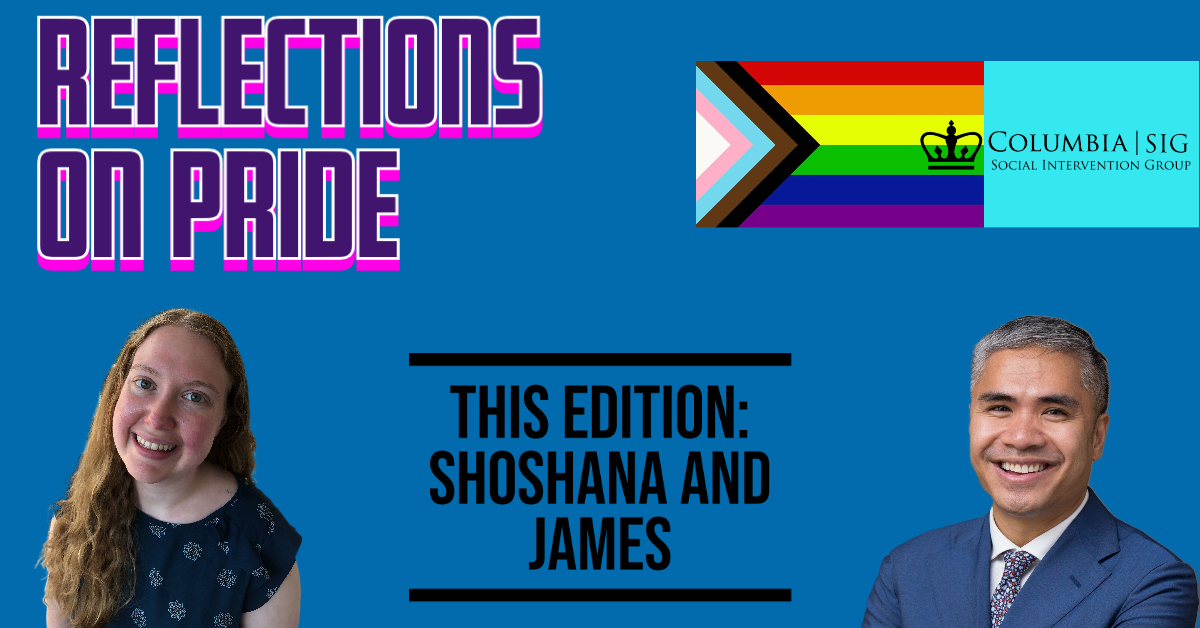 To commemorate and celebrate Pride month this June, staff, students, and researchers from SIG are sharing their own personal and professional reflections on what Pride means to them.
This is the first post in the series. See part two.
Pride Month honors the 1969 Stonewall uprising that took place in New York City's Greenwich Village neighborhood at the Stonewall Inn. As the Library of Congress notes, Pride mourns the loss of those to HIV/AIDS or hate crimes. Further, "The purpose of the commemorative month is to recognize the impact that lesbian, gay, bisexual and transgender individuals have had on history locally, nationally, and internationally."
The first of our series features two staff working on the HEALing Communities Study, a multidisciplinary community-based effort to reduce overdose deaths by 40% in New York: Shoshana Benjamin, the project administrator, and James David, the senior project director.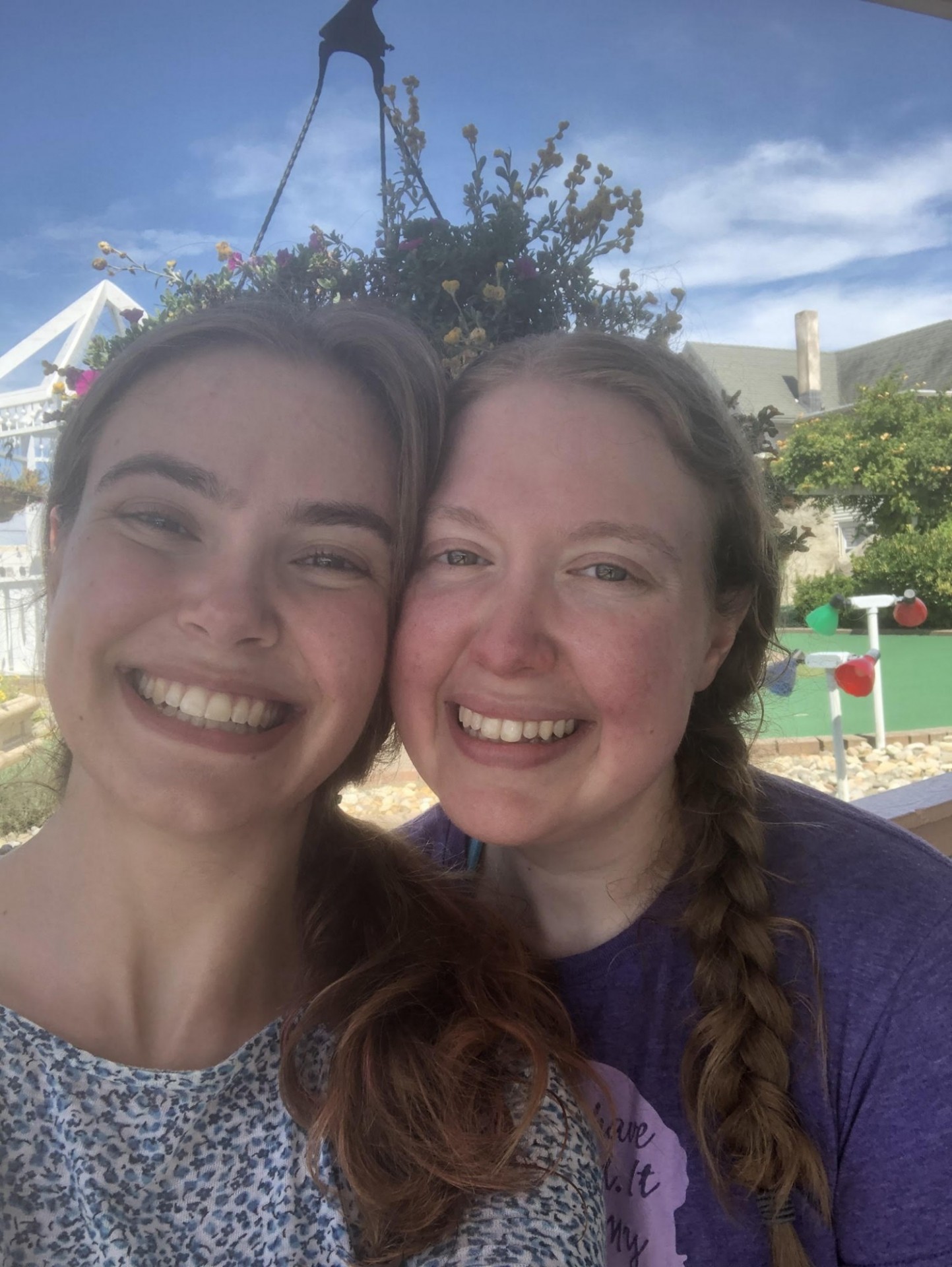 My mom used to joke that I had a direct line to the Supreme Court because two major cases pertaining to the legalization of "gay-marriage":  Windsor v. United States and Obergefell v. Hodges, were both decided on my birthday. I wasn't out to my parents then, at the time I was still trying to find a label for my sexuality that fit, but I knew that I could bring home a partner of any gender and my parents would be loving and supportive.
My parents won't get to attend my queer wedding, my mom passed away less than 2 months after gay marriage became legal in all 50 states, and my dad passed away only a year later, but I am so grateful to have grown up in a home where I was loved and supported and where equality and equity were foundational beliefs and principles.
So for me, luckily, PRIDE is about joy and the opportunity to be unabashedly myself.
But the current wave of anti-LGBTQ sentiment and laws, like the trans-healthcare and sports bans, the "don't say gay" bill, and impending SCOTUS decision on Roe v. Wade that could lead to "gay-marriage" getting overturned, remind us that our rights as LGBTQ+ folks are tenuous and cannot be taken for granted. A "direct line" isn't enough.
As a white, cis woman who only looks visibly queer when I walk down the street holding hands with my girlfriend, I must use my privilege and power to fight to ensure that everyone has rights, regardless of sexual ortientation, gender identity, and ability.
I hope to continue to fight these fights through the work we do at SIG. I am honored to work with people who not only value diversity in the workplace, but whose research and mission is also focused on serving the lives of underserved populations, including LGBTQ+ folks.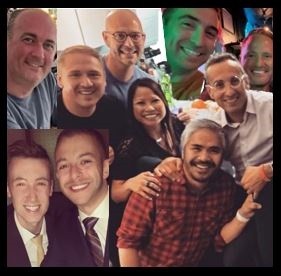 My husband and I moved to the suburbs, by chance, a year before the pandemic and we realized that, although lovely, suburban living wasn't for us. Recently back in the city, our emergence from the COVID-19 lockdown created the opportunity to reconnect with friends who we hadn't seen in years as well as make some new ones.
I am a natural homebody and introvert; making and maintaining friendships has never been easy for me. So, this year more than ever, I have much gratitude for my chosen family of queer people and queer co-conspirators. They were the ones who reminded me what is out there beyond my safe cocoon and pushed me to experience it.
Reflections on PRIDE in 2020: James and Alissa
I also don't take it for granted that I have parents, siblings, relatives, and in-laws that I love and love me in return as well as a workplace where I can be my most authentic self and can help build that same environment for others. With all this, I am very fortunate. At the same time, I know what it feels like to be alone and lonely as a painfully shy gay, Asian man who isn't "conventionally" attractive.
I know we all know our own version of this feeling and my hope is that we all have at least one person we can connect with, whether in our chosen family, family of origin, or at work who reminds us we aren't alone in this, sometimes, scary world.
I wish you all a joyous Pride and challenge us all to be connectors this season and beyond.
Read part two of the 2022 Pride series
Read past Pride posts: