June 22, 2021
Drs. Alissa Davis, Elwin Wu, and Andrea Norcini-Pala share what Pride means to them, their research, and within a global context.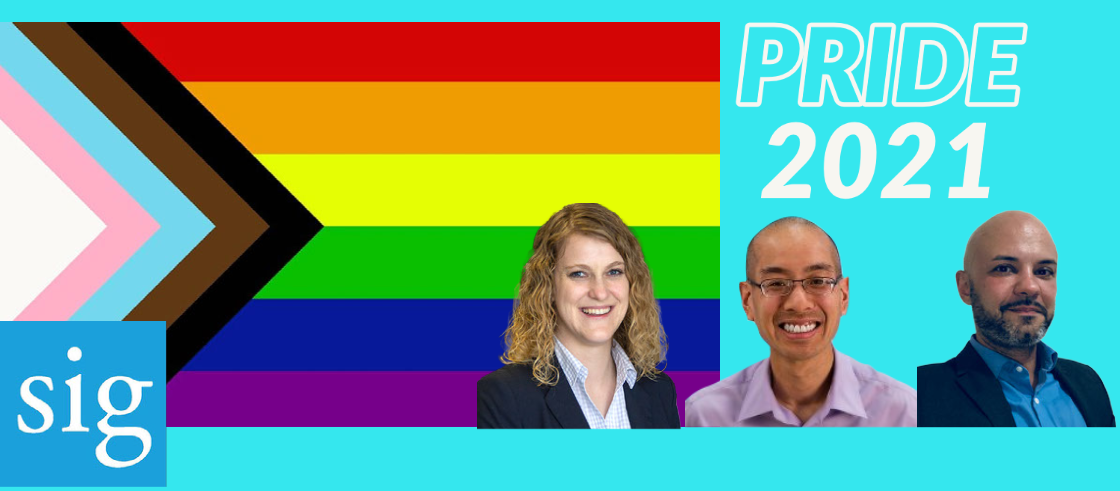 What does Pride mean to you?
Three researcher scientists from SIG -- Drs. Alissa Davis, Elwin Wu, and Andrea Norcini-Pala --  reflected on what Pride month means to them, their research, and for global populations. Following these reflections are related posts and resources.
Alissa Davis
Dr. Davis, a research scientist at SIG and an assistant professor at the School of Social Work, conducts research on linkage to and retention in HIV, sexually transmitted infections (STI), and substance use care among marginalized populations, including racial/ethnic and sexual minorities, people who inject drugs, and individuals involved with the criminal justice system.
Pride is a concept that I am incredibly grateful for, and I feel very lucky to live during a time and in a place where Pride is embraced.
Living in New York City, I have found most people to be very supportive of me and my relationship with my wife. Growing up, I never imagined that being LGBTQ+ would ever be accepted in society or that I would have the ability or opportunity to marry a woman I love deeply. I feel very blessed.
Unfortunately, not everyone in the LGBTQ+ community has acceptance or support, which is why I think Pride is still so important. Stigma and discrimination against LGBTQ+ individuals remains high in many parts of society in this country and throughout the world. There are many LGBTQ+ individuals for whom discrimination, and in some cases violence, is a daily reality. LGBTQ+ individuals who also have other identities that are marginalized in society, such as identifying as a person of color, face even greater levels of stigma and discrimination.
A large part of our research focuses on how to provide support and reduce stigma and discrimination in order to improve health outcomes among LGBTQ+ individuals and other individuals who are marginalized in society. I hope one day that all individuals, regardless of identity, will be enabled to live happy, healthy lives, but I don't think we're there yet as a society.
More work is needed, and I think Pride is an important part of that.
Elwin Wu
Dr. Wu is the Co-Director of SIG and the HIV Intervention Science Training Program for Underrepresented New Investigators. His practice experience includes direct clinical practice with individuals, couples, and groups with agencies serving primarily the lesbian, gay, bisexual, and transgender communities; evaluation of violence prevention programs for perpetrators of intimate partner violence in same-sex relationships; and program development and evaluation for criminal justice-involved adolescents and adults.
When I think about Pride, I don't "celebrate" in the sense of being festive. For me, it is about honoring and acknowledging the fight--and, frankly, the lives lost--against oppression and the multitude of forms of violence that the LGBTQ communities have experienced and continue to experience, particularly BIPOC trans folx.
To illustrate, I'm not expressing joy about the Stonewall riots; I want to honor the black trans activists--Marsha Johnson and Silvia Rivera--that sparked the riots.
More about Marsha P. Johnson & Sylvia Rivera
For me, Pride is about never forgetting and never stopping the fight, especially for those whose rights and well-being are lagging even among the LGBTQ population here in the US and around the globe.
Andrea Norcini Pala
Dr. Norcini Pala is a Postdoctoral Research Scientist at SIG. He received a PhD in Clinical Psychology from Milano-Bicocca University (Milan, Italy) and an MS in Developmental Psychology from the University of Parma (Parma, Italy).
June is Pride month. We, Lesbian, Gay, Bisexual, Transgender, Queer and Questioning (LGBTQQ) persons celebrate our identities, remembering the lives of those who fought against discrimination with strength, courage, and pride.
Harvey Bernard Milk, Audre Lorde, Marsha P. Johnson are only a few names of our LGBTQQ family who made the world a better place for all of us. Without them, I would not have had the opportunity to marry the love of my life, Octavio and build a family together. I am proud to be a gay man.
In Italy, during my childhood, I was bullied and isolated because I was "the effeminate" boy. The heavily conservative Italian culture legitimates these forms of violence, which have a detrimental impact on one's identity, including self-worth and self-esteem. These experiences instill feelings of shame and guilt, with long lasting negative impacts on our lives.
I see the Pride celebration as an opportunity to replace these negative emotions with the pride of being an LGBTQQ person.