September 07, 2022
Three new T32 Fellows and several students will work in a variety of research areas at SIG including HIV, IPV, substance use, stigma, health equity, and more.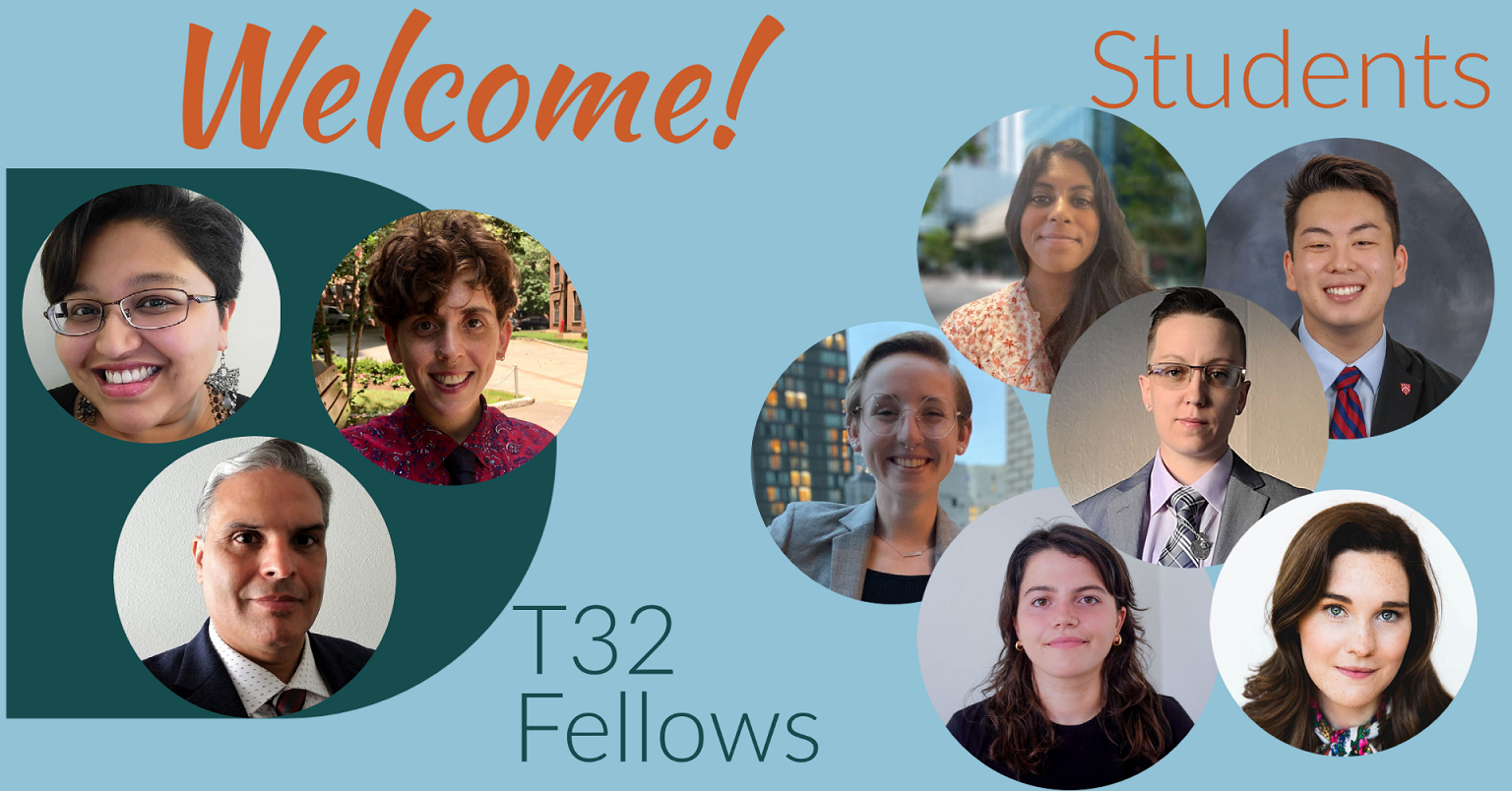 Welcome new T32 Postdoctoral Fellows
This year, SIG welcomes three new postdoctoral Fellows as part of the T32 training program. Funded by the National Institute on Drug Abuse, the T32 trains the next generation of pre- and post-doctoral scholars in the prevention, treatment, and care of HIV and drug abuse among individuals in the criminal legal system. 
Follow the links below to read their biographies and learn more.
Dr. Nishita Dsouza: "My interest in advancing interdisciplinary and innovative research focused on equity and justice is what drew me to the T32 program. I look forward to learning more about intervention design, implementation science, and community-engaged research."
Dr. Dean Rivera: "My career research objectives are to improve upon the mechanisms of prevention, treatment, and HIV and other healthcare concerns for women with substance use disorders (SUDs) who are involved with the criminal justice, SUD treatment, and child welfare systems. This T32 training program is perfectly suited to equip me with an advanced skillset to become an independent research scientist addressing one of society's most persistent public health issues. I would like to express my gratitude to the Directors of the T32 Training Program on HIV and Substance Use in the Criminal Justice System, the leadership at the Social Intervention Group, and all those I look forward to meeting and working with soon."
Welcome, new students!
Dget Downey: "I am so excited to be one of SIG's MSW Interns and Graduate Research Assistants! I look forward to pursuing meaningful research and interventions on marginalization, identity, and stigma as a form of social work advocacy."
Emily Edstrom: "I'm thrilled to be connecting with holistic research at SIG to continue my work in destigmatizing community care in substance use disorders and advocacy work. I'm passionate about the intersections of community healing and trauma work especially in LGBTQ+ populations, and am thrilled to be working on the UNICEF and SAMHSA projects."
Sam Gardner: "I am eagerly looking forward to starting this year at CSSW and at SIG. De-gatekeeping is critical to bring equitable assessments and how that can translate into efficacious interventions. My goal is to help build a bridge for those with autism spectrum disorder (ASD) from medical and diagnostic assessments  to clinical areas of substance use disorder (SUD) interventions. There is no standardized treatment for this population with comorbid ASD and SUD. It starts with rewriting narratives of each of these groups."
Ohshue Gatanaga: "I'm excited to collaborate with SIG to understand how to better serve and uplift communities impacted by health inequities. I'm looking forward to conducting meaningful research that combines both praxis and theory."
Vineha Ramesh: "I'm extremely excited to be joining the SIG team and contributing to the important research being done on intimate partner violence (IPV) interventions and opioid harm reduction."
Mary Russo: "I'm so excited to be working with SIG this year as my field placement. I'm hoping to learn about social work approaches to research and am eager to support my colleagues with their projects and pursue my own in collaboration with my fellow students."