By
Eleni Vlachos, Meruyert Darisheva, Tara McCrimmon
July 27, 2021
The Bridge Project finalized its study based at 24 needle exchange programs in Kazakhstan, where 70 care providers were trained to link individuals at each program site to HIV care.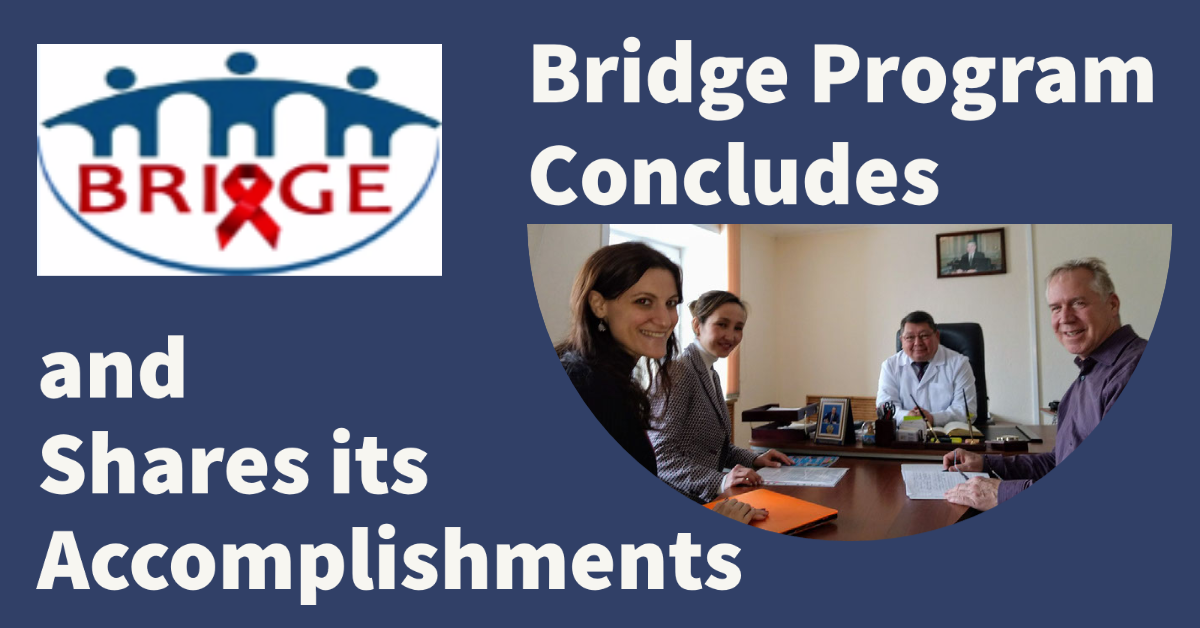 Bridging the Gap: Linking People in Needle Exchange Programs to HIV Care
Article compiled by Eleni Vlachos with text from Meruyert Darisheva, Project Director, Kazakhstan and Tara McCrimmon, Project Director, New York. Photos provided by Timothy Hunt, Meruyert Darisheva, and Tara McCrimmon.
Most HIV positive individuals who attend needle exchange programs are not linked to HIV care
In Kazakhstan, people who inject drugs still make up the majority of HIV cases in the country. Many members of this population are not linked to HIV care, meaning that they are not registered to receive consultations and treatment within Kazakhstan's system of regional AIDS Centers. Without this care, and access to antiretroviral medications, they are at higher risk of poor health outcomes and even death.
The research teams at SIG and the Global Health Center for Central Asia (GHRCCA) recognized this gap, identifying how impactful it would be to scale up HIV services for this community in a cost-efficient way. As a result of this insight, the Bridge study was launched in 2017 -- and just concluded. 
BRIDGE implementation training begins
The Bridge study was the first of its kind in Kazakhstan
Bridge is an implementation science study, commonly defined as studying methods to promote the systematic uptake of research findings, examining what works for whom and under what circumstances, and how interventions can be adapted and scaled up in ways that are accessible and equitable. Bridge is a combination of three evidence-based strategies meant to improve HIV services for people who inject drugs by enhancing testing, referrals and linkage to HIV care.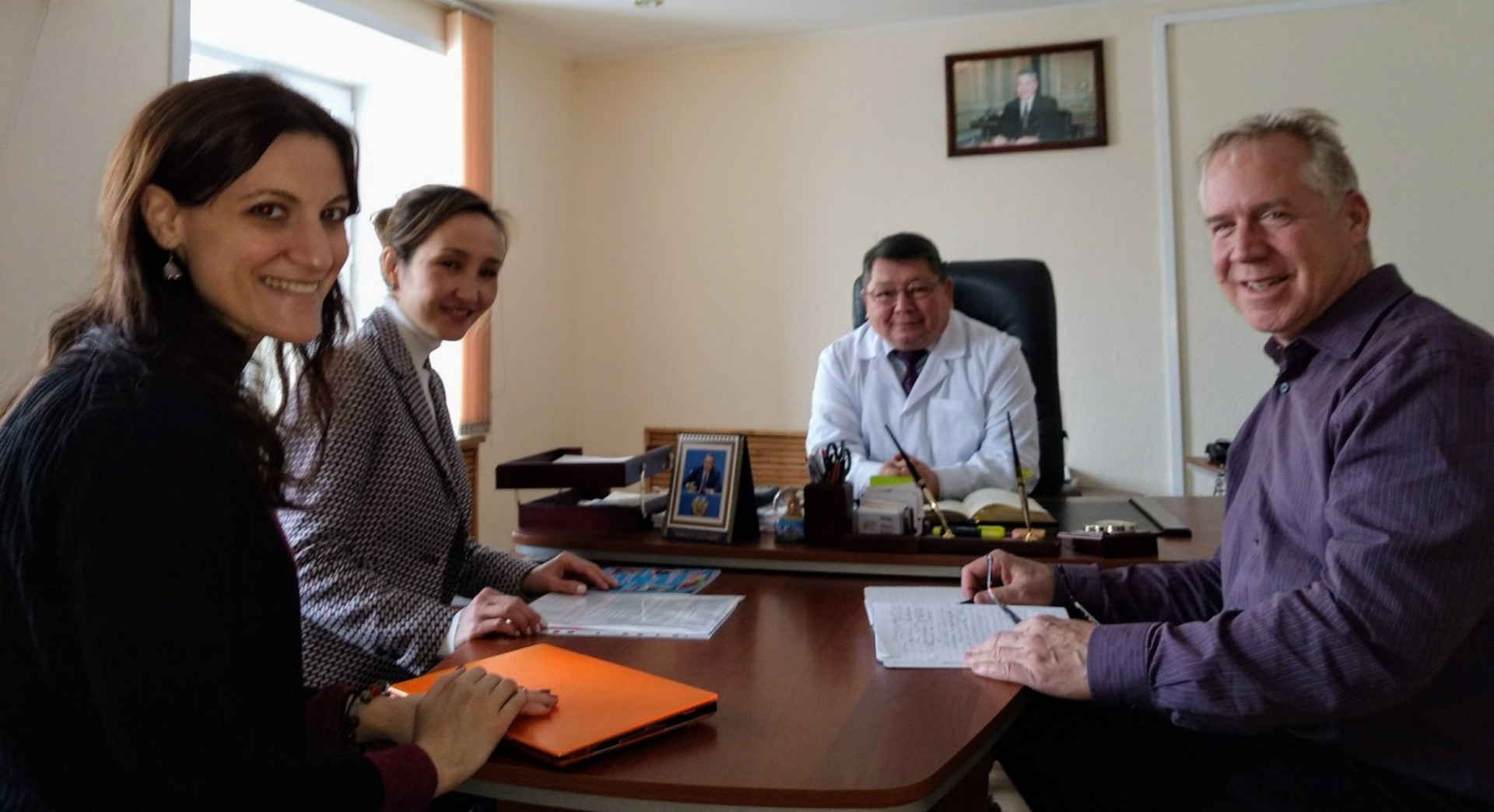 Bridge was created to fill the gap in HIV treatment services by evaluating the implementation, effectiveness, and sustainability of an integrated HIV service model in 24 needle syringe programs located in four Kazakhstani cities: Almaty, Shymkent, Karaganda and Temirtau.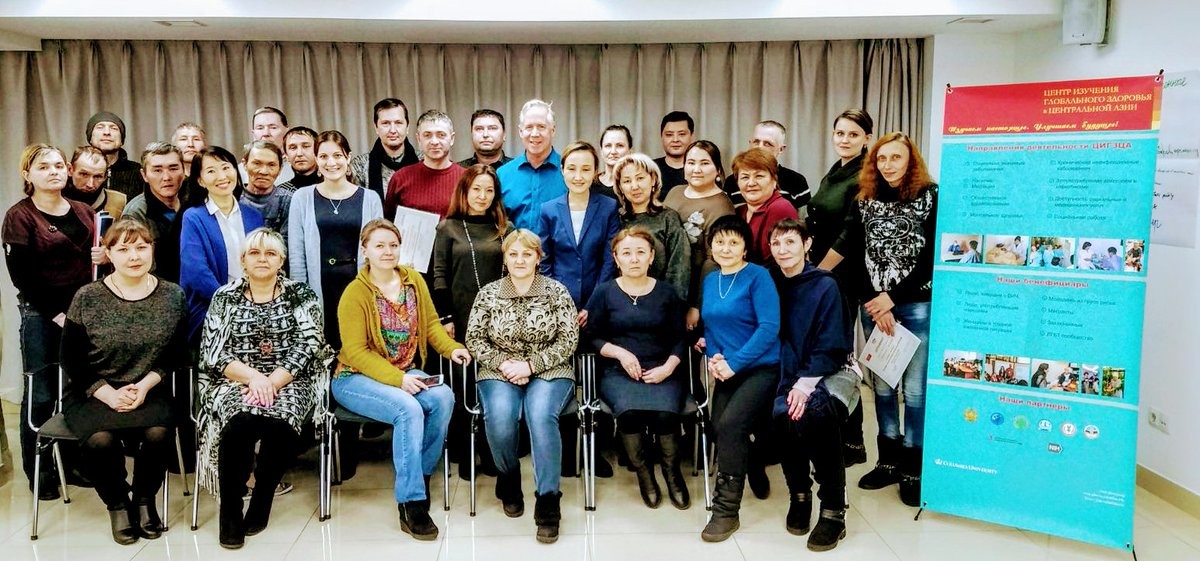 Bridge was the first implementation science study completed in Kazakhstan, and was conducted at community-based needle exchange programs -- known locally as "trust points" -- by existing nurse and outreach worker staff. 
Wrapping up Bridge at Kazakhstan needle exchange sites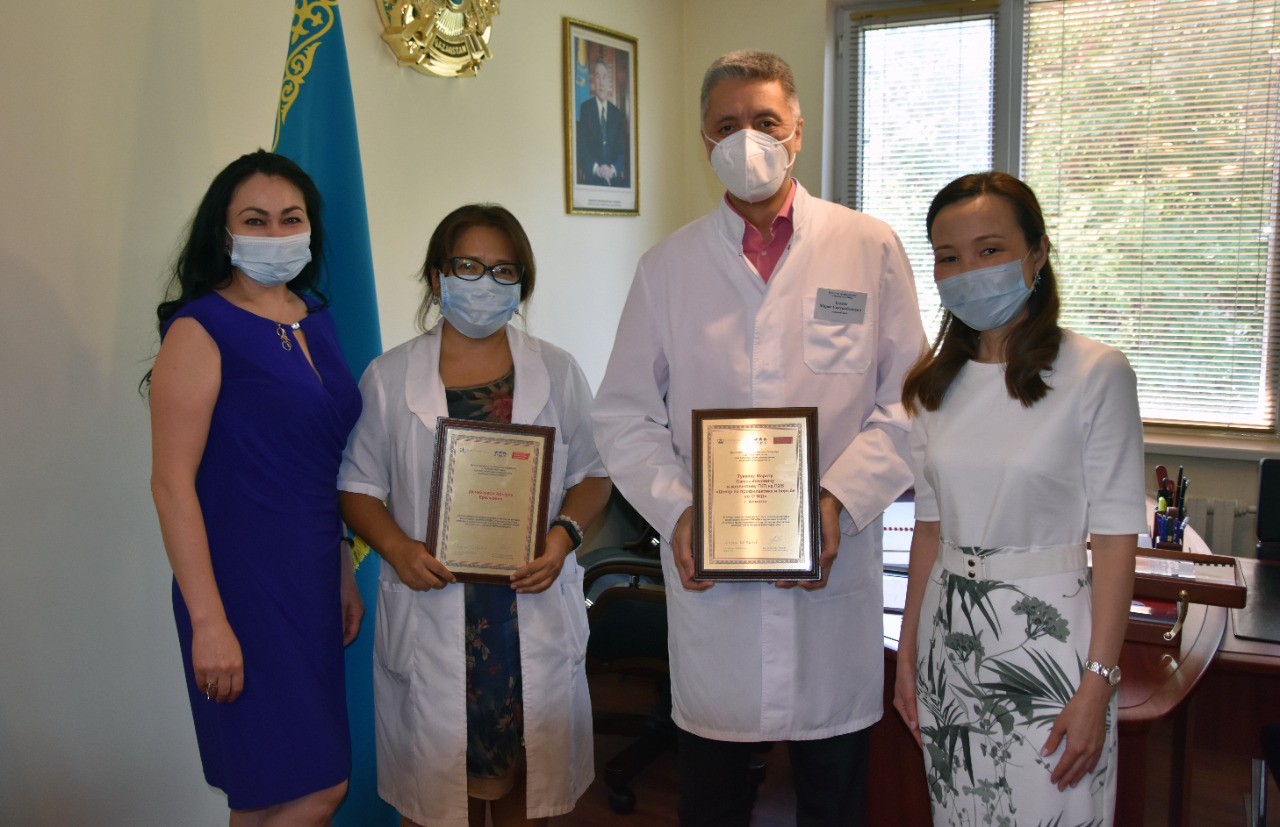 Earlier this month, the Bridge team at GHRCCA held a closing webinar with local partners in Almaty to present preliminary results of the Bridge project and thank everyone for their support over the past five years.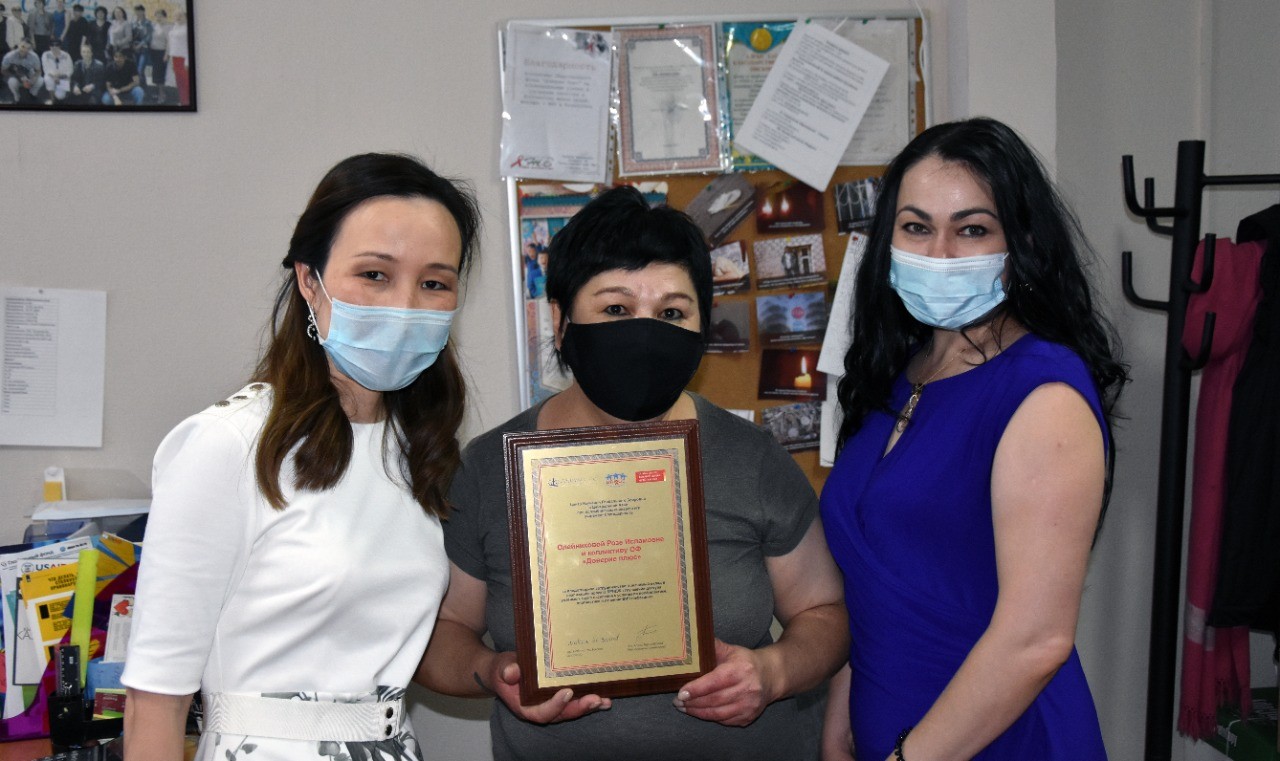 The webinar was attended by 78 participants, including the representatives of the Kazakh Scientific Center of Dermatology and Infectious Diseases, all regional and city AIDS Centers, as well as non-governmental and international organizations.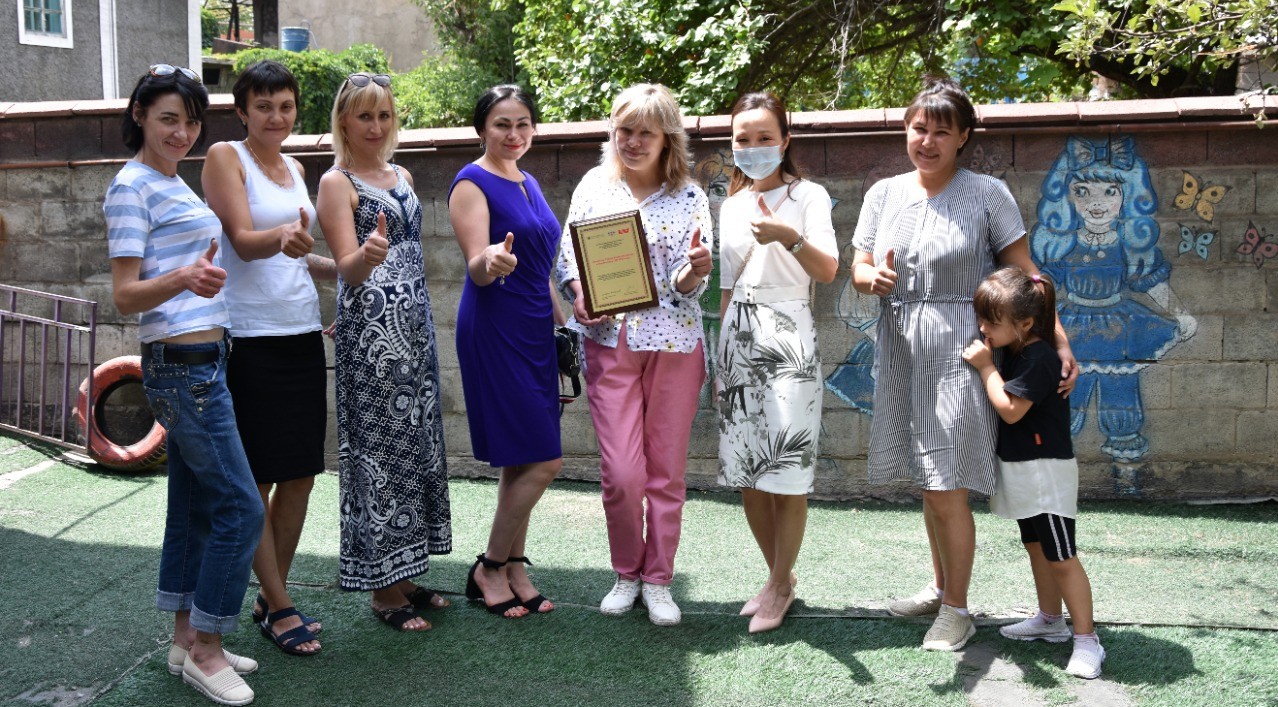 Highlights from the presentation included: 
The Bridge Project Director, Meruyert Darisheva, described how the project had impacted client flow, testing, and linkage to care in all four cities. 
Co-Investigator Timothy Hunt shared the training process and how supervision and feedback functioned, with local staff in each city troubleshooting problems together. 
Deputy Chief of Almaty city AIDS center Dr. Alphia Denebayeva emphasized how Bridge leveraged existing resources and staff, increased needle exchange program capacity in HIV testing and linking people who use drugs to care, and built collaboration between trust points and other medical and social organizations.
GHRCCA's Deputy General Manager Sholpan Primbetova shared data collected from staff over the course of the project, and focused on the importance of trust points staff in HIV care and made recommendations for improving trust point capacity.
Overall, participants agreed that motivational interview and communication skill training for needle exchange program staff was very important to build trust with clients. Staff trained under the Bridge program continue to provide services for key populations and use new knowledge and skills in improving access to services for people who use drugs.
The team also discussed the realities of implementing project components in real world settings and sustainability of the Bridge program. At the end of the webinar, certificates were presented to local partners, who were crucial in ensuring Bridge's success.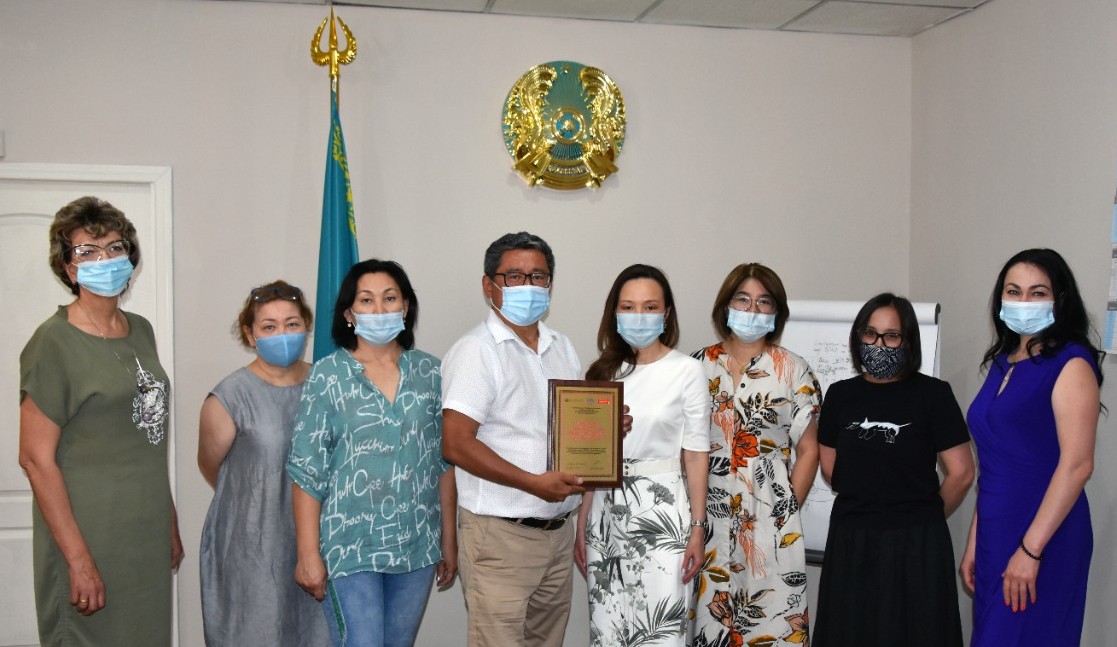 Over 70 staff at 24 needle exchange programs were trained on the Bridge program
The Bridge project was completed at 24 needle exchange program sites from January 2017 through August 2020. More than 70 staff at these sites -- nurses, outreach workers, and more -- were trained on the Bridge program. During the project, these staff engaged new needle exchange program clients, increased rapid HIV testing, and provided referrals and supported linkage to care and antiretroviral therapy (ART) for people who use drugs. Staff also worked with clients who had dropped out of HIV care to re-link them to services and HIV treatment. 
Staff described their positive experiences working on the project in this video created by the Bridge team.
The research team is currently finalizing the study outcomes for publication.
Thanks to this "real-world" setting in four cities, the research team can now examine not only whether Bridge improved HIV services for people who use drugs, but also what organizational and staffing characteristics helped or hindered this process.
Full descriptions of the study procedures are available in this paper by the study team and collaborators.
Bridge Leadership
More about the Project Directors
Tara McCrimmon is a doctoral student (DrPH) in the Sociomedical Sciences Department at the Mailman School of Public Health, and a predoctoral fellow in the T32 program.
Meruyert Darisheva is an Epidemiologist and Project Director at the Global Health Research Center of Central Asia (GHRCCA) at Columbia University based in Almaty, Kazakhstan. Her research focuses on behavioral risk factors, multilevel factors that are associated with TB, HIV as well as on interventions to improve access to HIV care for vulnerable and marginalized groups of populations, including sex workers, people who use drugs, people living with HIV.  Over the past years, she has worked on a number of studies with GHRCCA. Meruyert graduated from Kazakh National Medical University, holds an MS from University at Albany, a PhD from Kazakh School of Public Health.