February 16, 2022
In a three-part series, the staff at SIG share the contributions of Black researchers, scientists, and health care workers both historically and contemporarily ("making history") and acknowledge ongoing issues in research.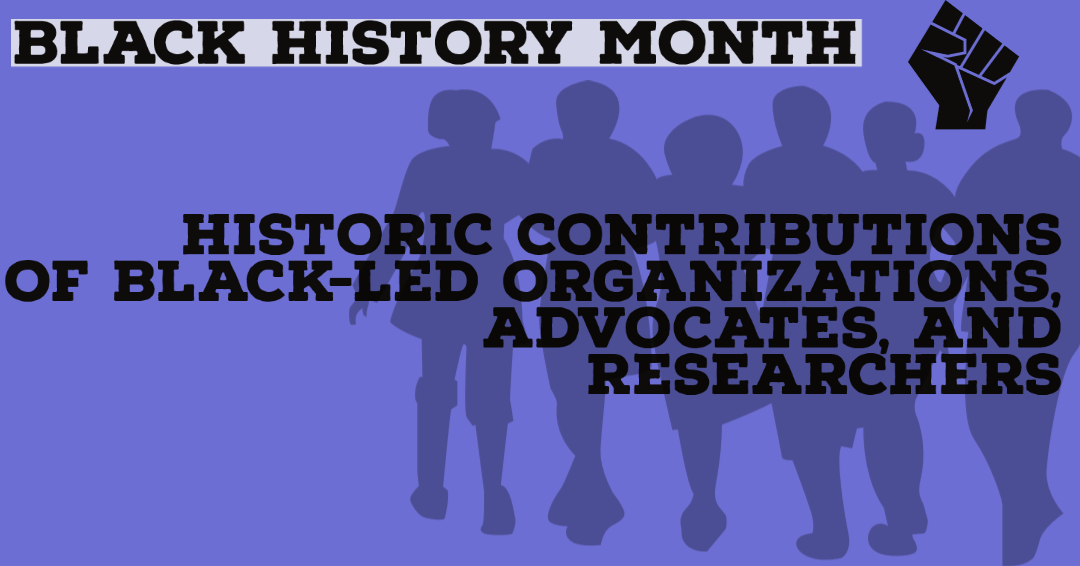 Black History Month traces its origins to 1926 when Dr. Carter G. Woodson created a week to recognize and celebrate the contributions of Black Americans to the history of the United States and the world. 
To commemorate the month and the tremendous achievements of Black individuals, the staff here at the Social Intervention Group (SIG) want to acknowledge the contributions of Black researchers, scientists, and health care workers both historically and contemporarily ("making history") related to SIG's research areas. Also, importantly, the staff want to acknowledge ongoing problematic issues in research that need to be addressed. 
SIG will share these contributions through three separate articles to commemorate Black History Month: 
Historic contributions
Below, we begin with historic contributions related to SIG's areas of research/focus.
This theme this year is Black Health and Wellness, set by The Association for the Study of African American Life and History, the organization founded by Dr. Woodson in 1915. 
Historic Contributions of Black-Led Organizations, Advocates, and Researchers
Black-led organizations and advocacy around AIDS, HIV, and infectious disease
There are both organizations and advocates who paved the way in addressing infectious diseases. We highlight a few of these efforts below.
Organization: Blacks Educating Blacks About Sexual Health Issues was founded in 1985. "Bebashi was the first African-American organization in the United States to address the AIDS crisis. It remains one of Philadelphia's largest community-based minority providers of HIV/AIDS education and services for the urban community."
Advocacy: Black women provided knowledge, support, and comfort to others during the height of the AIDS pandemic. An article in the Journal of AIDS and HIV Treatment, Black Women's Contribution to the HIV/AIDS Fight, shares the myriad ways Black women contributed. Support included their role as patients. Contributions also included Black women who were therapists, community leaders, caregivers, and part of clinical trials.
Why addressing racism against Black women in health care is key to ending the US HIV epidemic
Advocacy: The book  "To Make the Wounded Whole: The African American Struggle against HIV/AIDS, offers the first history of African American AIDS activism in all of its depth and breadth." The description shares that "Members of [African American] communities mobilized to fight the epidemic and its consequences from the beginning of the AIDS activist movement. They struggled not only to overcome the stigma and denial surrounding a 'white gay disease' in Black America, but also to bring resources to struggling communities that were often dismissed as too 'hard to reach.'"
Infectious disease researcher: It was not uncommon for Black researchers to make scientific discoveries that were claimed by white researchers. This was the story of Alice Ball, a researcher who developed the first effective treatment for leprosy. "Alice Ball (1892 – 1916) ... was unable to publish her results herself, as she died in 1916 at the age of 24…A year later, the president of the University of Hawaii claimed her discovery for himself and published the findings without giving her credit. It wasn't until 1922 when her colleagues published her findings that she was given the recognition she deserved, although the University of Hawaii  didn't formally recognize her work for nearly 90 years...The 'Ball method' was used for decades until new treatments were discovered."
Black Leaders in racial, health, and gender disparities and equity
SIG's tagline, "Global Science, Global Health, Global Equity," guides SIG's research, and it is through this lens that we share early contributions by researchers who also fought for equity by addressing racial and gender health disparities.
Sojourner Truth (1797-1883): "A former slave, Sojourner Truth became an outspoken advocate for abolition, temperance, and civil and women's rights in the nineteenth century."
Charles S. Johnson, PhD, (1893–1956): "In his later career, Johnson focused his scholarship on a critical study of how legal, economic, and social forces work together to produce structural racial oppression."
W.E.B. Du Bois: (1868-1963). A publication, "Understanding Racial/ethnic Disparities in Health: Sociological Contributions," shares Dr. Du Bois' contributions to health and racial disparity research: "This paper … begins with a brief description of the findings of a seminal study conducted by the African American sociologist W. E. B. Du Bois in the late 19th century." 
Oliver Cromwell Cox, MD (1901–1974): "Cox's contributions were important to orienting sociology toward structural ways of seeing, studying, and analyzing racism in the U.S…His most notable work is Caste, Class and Race, published in 1948."
Dr. Sophia B. Jones (1857 – 1932): Dr. Jones "became the first Black woman to graduate from the University of Michigan's Medical School in 1885, and dedicated her career to fighting for health equity for Black people."
Ida B Wells (1862-1931): "Wells became one of the nation's most vocal anti-lynching activists [and] she helped launch the National Association of Colored Women (NACW).  In 1909, Wells was a founding member of the National Association for the Advancement of Colored People (NAACP). She also actively campaigned for women's suffrage." (Also see The Ida B Wells Society.)
bell hooks (1952-2021): bell hooks was a professor, feminist, author, and social activist. "She insisted that the fight for women's rights had to take into account the diverse experiences of working-class and Black women." Also see the bell hooks center. Stay tuned for more about bell hooks from the Columbia School of Social Work.
Elizabeth Bishop Davis, MD: (1920-2010) "A focus on Black health and wellness highlights the history of healthcare and medical professionals like [Dr. Davis], a Harlem-based psychoanalyst who dedicated her career to developing mental healthcare for Black Americans and investigating racial and class disparities in mental health."
Dr. Gerald Thompson (1932-Present): Dr. Thompson founded the Society of Urban Physicians with colleagues after noting the significant health disparities in the 1960s, and "and organized several hundred New York City public hospital senior physicians to advocate for improved conditions in public hospitals. Thomson also called public attention to the high death rates and poor health among residents of central Harlem. He secured federal funding to establish a primary care network in Harlem, still functioning today as the Harlem Renaissance Network."
Black leaders in the LGBTQ movement
SIG is committed to the equity and well-being of sexual and gender minorities, and recognizes the contributions of Black advocates and academics to the LGBTQ movement who made this work possible.
Audre Lorde (1934-1992): "A self-described 'black, lesbian, mother, warrior, poet,' Audre Lorde dedicated both her life and her creative talent to confronting and addressing injustices of racism, sexism, classism, and homophobia."
Dr. Wu Honors the Sacrifices of Queer and Gay Men
James Baldwin (1924-1987): "In his novels, plays, and essays alike, Baldwin explored the psychological implications of racism for both the oppressed and the oppressor."
The Black and brown activists who started Pride: "One piece of history that frequently gets lost is the fact that many of these defining moments were only made possible by Black and brown LGBTQ+ activists fighting for their liberation. As Black and brown people, their marginalization was furthered by their sexual orientation, causing violence, discrimination, and oppression toward them with respect to income, employment, housing, education, political representation, access to health care, and other public and private services."  
Black leaders in medicine: Community, reproductive, pediatric, and mental health 
Though SIG researchers are not usually practicing medicine, research studies at SIG are very interconnected with community and reproductive health and wish to acknowledge the following researchers.
Rebecca Lee Crumpler, MD (1831-1895): "[Dr.] Crumpler challenged the prejudice that prevented African Americans from pursuing careers in medicine to become the first African American woman in the United States to earn an M.D. degree…she has secured her place in the historical record with her book of medical advice for women and children, published in 1883."
Margaret Morgan Lawrence, MD (1914-2019): "After graduating from medical school, she applied to Columbia's pediatrics residency but was denied a place because of her gender. Instead, she trained at Harlem Hospital, where "her eyes opened to the connections between physical illness and community health…She later trained in psychiatry at New York State Psychiatric Institute and psychoanalysis at the Columbia Psychoanalytic Center and became the first African-American female psychoanalyst in the United States and the first black female physician certified by the American Board of Pediatrics."
Doris Wethers, MD (1927-2019):  "Wethers was part of a group of physicians whose landmark study showed that an antibiotic reduced mortality in children with sickle cell. That led to a push to screen all newborns for sickle cell, which had already started in New York in 1975. In 1987, Wethers chaired an NIH panel that recommended newborn screening for all babies. Only 10 states at the time offered such screening; universal screening became available in all states in 2006."
Percy L. Julian (1899-1975): "A steroid chemist and an entrepreneur, Percy Julian ingeniously figured out how to synthesize important medicinal compounds from abundant plant sources, making them more affordable to mass-produce. Throughout his life he was socially active in groups seeking to advance conditions for African Americans, helping to found the Legal Defense and Educational Fund of Chicago." Further, a post from CBC shares that  "His biggest contributions were to biomedical research. By figuring out how to synthesize important medicinal compounds from plants, he helped make steroids like cortisone and birth control pills significantly more affordable to mass-produce."
Increased enrollment of underrepresented students
Part of SIG's mission is addressing "emerging health and social issues affecting diverse populations" but also "training the next generation of scientists from underrepresented affected communities to address these issues." This training is completed through two programs primarily: The HIV Intervention Science Training Program (HISTP), for new faculty, and the T32 program, for both pre- and post-doctoral fellows. It is in this spirit that we recognize the following contribution.
Marie Maynard Daly (1921-2003): "Overcoming the dual hurdles of racial and gender bias...in addition to her research, she was committed to developing programs to increase the enrollment of minority students in medical school and graduate science programs."
Contributions by Patients 
"Contributions" is not quite an accurate title for this section since the two more well-known cases we share here involve a lack of consent. However, Black individuals have contributed to science in both consensual and non-consensual ways, and we wanted to acknowledge these contributions.
One of the most well-known non-consensual experiments was the 40-year Tuskeegee Study, where Black men were recruited under false pretenses for a syphilis study and "In order to track the disease's full progression, researchers provided no effective care as the men died, went blind or insane or experienced other severe health problems due to their untreated syphilis." This led to "the establishment of the Office for Human Research Protections (OHRP)and federal laws and regulations requiring institutional review boards for the protection of human subjects in studies."
Henrietta Lacks (1920-1951): A sample of Ms. Lacks cancer cells were taken during a biopsy. "Dr. Gey, a prominent cancer and virus researcher, had been collecting cells from all patients - regardless of their race or socioeconomic status - who came to The Johns Hopkins Hospital with cervical cancer, but each sample quickly died in Dr. Gey's lab. What Dr. Gey would soon discover was that Mrs. Lacks' cells were unlike any of the others he had ever seen: where other cells would die, Mrs. Lacks' cells doubled every 20 to 24 hours.
Today, these incredible cells— nicknamed "HeLa" cells, from the first two letters of her first and last names — are used to study the effects of toxins, drugs, hormones and viruses on the growth of cancer cells without experimenting on humans. They have been used to test the effects of radiation and poisons, to study the human genome, to learn more about how viruses work, and played a crucial role in the development of the polio and COVID-19 vaccines. Although Mrs. Lacks ultimately passed away on October 4, 1951, at the age of 31, her cells continue to impact the world." 
This list is not exhaustive. Are there any researchers -- related to SIG's area of research -- that we missed and should include? Please do write Eleni. Stay tuned for parts II and III, on contemporary Black researchers and advocates, and problematic areas in research.
About SIG
SIG was founded 30 years ago to address the AIDS pandemic. Both AIDS and HIV continue to be the focus of most of SIG's research projects and efforts, which also include often concurrent issues of intimate partner and gender-based violence, substance use disorder, and racial and health disparities. The underrepresented populations SIG serves include people who inject drugs or suffer from substance misuse, sexual and gender minorities, justice-involved populations, people who are refugees or undergoing forced migration, and people who trade sex for money.