September 18, 2023
Center for Justice Associate Director Cameron Rasmussen recently completed his doctoral studies at CUNY, including a dissertation exploring the issue of accountability.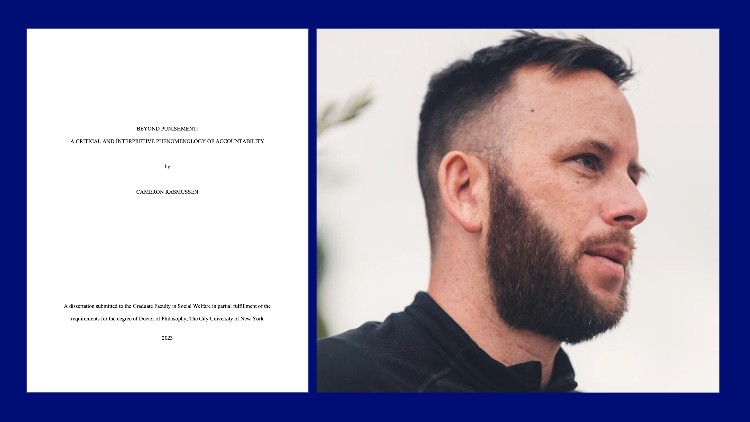 Cameron Rasmussen, Associate Director of the Center for Justice at Columbia University, recently completed his Ph.D. through the CUNY Graduate Center's Social Welfare program. He spoke briefly about his accomplishments and future plans.
Congratulations, Cameron!
What is the focus of your dissertation?
My dissertation is titled "Beyond Punishment: A Critical and Interpretive Phenomenology of Accountability" and it explored the issue of accountability as understood among men who committed serious violence. I interviewed 11 men who committed homicide, served long sentences in prison, participated in a restorative process while inside, and have since come home. The study asked each of them how they defined accountability, how they expressed accountability, and what hindered and supported their accountability-taking. I am excited for the dissertation to be out in the world soon, and I hope that it is a useful offering to the work of restorative and transformative justice, and that it expands the possibilities for non-punitive approaches to harm.
What are your next steps professionally?
I am fortunate to be starting a postdoctoral fellowship at the Social Intervention Group for the next year while continuing my role at the Center for Justice. In addition, I plan to pursue a tenure track faculty position for fall 2024.
What's something you learned from your involvement in the Ph.D. program that you're excited to implement in your work at the Center for Justice?
My time at CUNY taught me many things including how to be a researcher, and how to pursue scholarship in ways that further justice, both in the process and the outcome. Truthfully, my time at CUNY and my time at the Center have been deeply interconnected and mutually beneficial. The Center has taught me to always focus on the needs of people, and to follow the leadership of people most impacted by any set of issues. CUNY taught me the skills and grew my community to be able to become a scholar in my own right.
How do you like to unwind?
Early in the pandemic I began surfing in the rockaways and now I'm hooked. Developing a new hobby has really been a joy.
What's coming up at the Center for Justice that you're excited about?
There is so much good work happening at the Center. At the moment I am most excited about the public launch of the Justice Beyond Punishment Campaign which is a narrative and culture change campaign working to change how we understand, talk about and message around addressing violence, punishment, justice and safety.
We are focused on people and organizations in New York State engaged in movements for justice and are working to support our movements in offering effective, compelling and cohesive messages and stories to end violence.  Our public launch is in October and in the following months we will be sharing and organizing a number of resources and events including a podcast called the Problem with Punishment, and a theater production, and tools to support messaging.