Dr. Goddard-Eckrich develops and implements programs and interventions to address health disparities affecting underserved populations.
Bio
Dr. Dawn Goddard-Eckrich is an Associate Director of the Social Intervention Group and Associate Research Scientist with over 17 years experience leading the successful implementation of five NIH funded studies of behavioral interventions: Eban, WORTH, WINGS, PACT, and E-WORTH. Her experience includes developing and implementing programs and interventions to address the health disparities affecting underserved populations in NIDA funded clinical trials. Dr. Goddard-Eckrich has extensive experience in primary data collection, including expertise in recruitment and retention of marginalized populations, project management, mixed methods research, fidelity measures and development of various study protocols. 
Dr. Goddard-Eckrich is also the Director of the Community Collaborative Research Network (CCRN), which is a collaborative partnership comprised of representatives from community-based organizations, health service agencies, government organizations, and SIG. The CCRN's focus includes research, training, education and advocacy primarily among justice-involved individuals and communities disproportionately affected by legal involvement in NYC. 
Currently Dr. Goddard-Eckrich is leading a new study that will examine the availability of COVID-19 testing and the impact of COVID-19 on the availability of naloxone and buprenorphine comparing pharmacies in racially diverse communities, to pharmacies in largely white communities in 16 counties in New York within the NIDA-funded HEALing Communities Study.  She also leads the qualitative data collection and analysis of HEALing Communities Study.  
Dr. Goddard-Eckrich is also leading SIG's MSW internship program and has invested heavily in mentoring not only dozens of MSW students but also the staff that she supervises, many of whom have progressed to masters and doctoral programs with her support. Outside of SIG, Dr. Goddard-Eckrich has taught classes in research methods at John Jay. 
Originally from the Trinidad and Tobago, her current area of research interests are also focused on adapting evidence-based interventions and using Community based participatory research (CBPR) approaches to address health disparities, social determinants and equity related to health risks, access to care, and health related outcomes among minority populations, including Caribbean populations. Dr. Goddard-Eckrich has also co-authored over 30 peer-reviewed articles. 
Dr. Goddard-Eckrich holds a Master's degree in Social Sciences from University of Colorado, Denver (2000) and BA in Journalism from CUNY (1998) and a doctorate in Health and Behavioral studies from Teacher's College, Columbia University.
Research interests
Dr. Goddard-Eckrich's area of interests:
Research where the primary aim is to address, reduce or eliminate health disparities and equity related to health risks and access 
CBPR to improve delivery of evidence-based interventions
Culturally adapted research on intimate partner violence, HIV, substance abuse, chronic disease and reproductive health
Studies related to the role of stigma in its relationship to health disparities or inequity 
Pre-exposure prophylaxis (PrEP), feasibility, acceptability and barriers
Ways to promote awareness of health disparities/inequities, including social marketing research, campaigns and multi-media interventions 
Publications
Featured Publication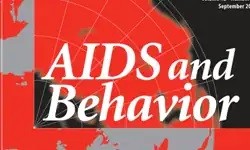 Moderation Analysis of a couple-based HIV/STI Intervention Among Heterosexual Couples in the Criminal Legal System Experiencing Intimate Partner Violence: Results from a Randomized Controlled Trial